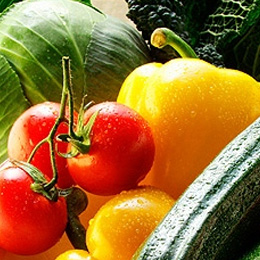 Superior QUALITY
We don't settle for second best. This applies to all aspects of our operation, ranging from food product and preparation to service. The staff at M. Halpert Catering Limited is comprised of professionally trained cooks with well over half a century of combined experience in the daycare food preparation industry.

Reliable SERVICE
We ensure that you can trust that you will receive what you are expecting, on time, and properly prepared. We appreciate the fact that flexibility on our part is paramount to a successful working relationship. We are organized to accommodate all individual needs such as allergies and food related cultural concerns, portion sizes, picnic lunches, additions, cancellations, and substitutions

Fresh FOOD PRODUCTS
In our kitchen, we only use 100 % natural fruits and vegetables. We will not use foods with artificial preservatives or thickeners, or foods that have been genetically modified. We do not use foods with added refined sugar or excess salt, and we do not use processed cheese slices. In fact, we make the majority of our menu items on site. All of our breads and bread products are 100 % whole wheat or whole grain, and are delivered fresh on an "as needed basis". Our milk is delivered daily and we can also make organic milk or soy milk available upon request.

There are no nuts or nut products in our kitchen, nor any pork products.

ALL MEALS AND SNACKS SERVED BY M. HALPERT CATERING LIMITED ARE TRANS FAT FREE

Innovative MENU DESIGN
Because allergies are a commonality amongst children, we have developed menus that will accommodate lactose intolerance, celiac disease, and any other allergies, no matter how basic. We also cater to vegan and vegetarian ideologies. Our lunch and snack menus operate on a four week rotational basis and include the use of diverse ethnic foods. Menus change seasonally. Picnic lunches are available on an as needed basis and are tailored to the specific needs of each centre.

Great VALUE
It is important that as a client you believe you are receiving good value for any of your purchases. A cornerstone of M. Halpert Catering Limited since its inception has been the provision of high quality products and services at fair and reasonable prices. Whenever practical and beneficial to do so, we endeavor to surpass the food portions suggested by the Ministry of Children's Services while maintaining appropriate levels of fat, protein and carbohydrates.

At M. Halpert Catering Limited, we strive to meet any request made of us in order to provide a more appropriate meal for each child we serve. Any meal substituted in its entirety will still be offered in a form that is nutritionally sound, aesthetically pleasing, and good tasting.